About IAP-ID
The International Academy of Pathology (IAP),formerly known as the International Association of Medical Museums, was founded by Dr. Maude Abbott in 1906. From then on the International Academy of Pathology (IAP) has grown into a world wide organization with Divisions in almost all countries and regions of the world, including the Indian Division.
The International Academy of Pathology - Indian Division (IAP-ID) was started in the late 1960's with a few select members and from this small beginning it has grown tremendously in all aspects of its operations, especially so in the last few years. The IAP-ID is one of the most active and dynamic Divisions of the International Academy of Pathology and has attracted a large membership and evoked lot of interest from Pathologists, both from India and abroad, due to its active academic and scientific programs.
The IAP-ID has three main scientific and academic activities in a year. The first is the IAP-ID Mid Year Teaching Programme held usually in April or May and is usually a Workshop on a selected topic of practical utility targeted mainly at trainee and young Pathologists. Next, in the month of August or September there is the IAP-ID Annual CME which would be on a topic of current interest or new frontiers and developments in the field of Pathology. Finally, in November or December, the IAP-ID Annual Meeting is held, which includes usually a Guest Lecture by an invited foreign speaker, a Slide Seminar and a Symposium on pre selected topics. This Meeting is held in conjunction with the Annual National Conference of the Indian Association of Pathologists and Microbiologists (IAPM) for the convenience of members, many of whom are members of both Associations.
The IAP-ID also has its own Newsletter, the IAP-ID Newsletter, released twice a year in January and July, which keeps the members abreast with the activities of the Indian Division as well as other important news of the IAP and various meetings taking place in various parts of the world.
IAP-ID website: Estd. in 2005 by Dr. John Marshall Johnson
IAP-ID Office Bearers
President:

Dr. ANITA S. BHADURI
Surgical Pathologist,
P.D. Hinduja National Hospital,
Mahim, Mumbai – 400016
Email:asbhaduri@yahoo.com
Secretary & Treasurer IAP-ID:

Dr. REENI MALIK
Profesor and Head , Department of Pathology
Gandhi medical College
Bhopal, M.P., 462001.
Email:reenimalik@yahoo.co.in
Editor, IAP-ID Newsletter:
Councillors:
Dr. DEBADATTA BASU
Dept of Pathology, JIPMER, Pondicherry,605006.
Email:ddbasu@gmail.com

Dr. UTTARA CHATTERJEEE
Prof Pathology
Institute of Postgraduate Medical Education and Research (IPGME&R) Kolkata
Email:uttarac1@gmail.com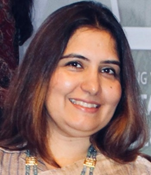 Dr. KIRTI CHADHA
Chief scientific officer Sr Consultant Oncopathologist, Metropolis Healthcare Ltd. Mumbai
706, B WING, Serenity Towers, 2nd Hasnabad Lane, Off S.V. Road,Near Khar Subway, Santacruz West, Mumbai 400054
email drkirti26@gmail.com
Ex Officio Members
Immediate Past President:

Dr. S. DATTA GUPTA
Ex Professor, Dept of Pathology
All India Institute of Medical Sciences
Ansari Nagar,New Delhi 1100029
EMail: sdattagupta@gmail.com
Immediate Past Secretary & Treasurer:

Dr. ANITA S. BHADURI
Surgical Pathologist,
P.D. Hinduja National Hospital,
Mahim, Mumbai – 400016
Email:asbhaduri@yahoo.com
Advisor:

Dr. FRANCISCO COUTO
IAP Vice President
Director Professor of Pathology
Goa Medical College
714, La Campala Colony, Panaji 403001, Goa.
Email:drfranciscouto@yahoo.co.in